By
RFEFX
- Sat Apr 21, 2012 2:38 am
- Sat Apr 21, 2012 2:38 am
#143254
Showed a friend of mine one of the boards I designed to test my components on and he suggested I post it on the SFE forums. Since I'm on the website all the time anyway. I love this design because it has the breadboard surrounded by all I/O's from the microprocessor. I use the RF button link on most of my boards that I design because I love the versatility of having 5 buttons at my fingertips to do whatever I want. This original design features a PIC processor, and I am working on the Atmel Equivalent because I want to get into AVR Studio. This board features the CP2102 USB to UART Bridge (switchable) as well as the PICkit3 header. Works great for me... just thought I would share.
Note: the USB plug on the bottom of the board is for my Custom ICSP programmer.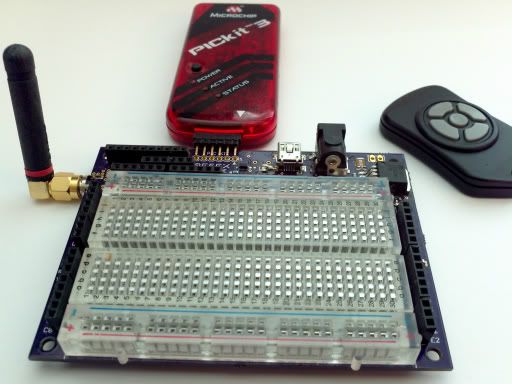 You do not have the required permissions to view the files attached to this post.