Seeing as the AVC event as added a one pound combat class, I've decided to dust off "Angry Accountant". She had a good run in the Combat Robotics circuit from 2004 through 2007, but has been quietly resting in a box since then. Many details of her dark past are accessible from
http://teamcosmos.com/angry/angry.shtml
.
Here one of her more entertaining fights:
http://youtu.be/YhOflMhHAuA
Fresh out of the box she looks like this:
She's completely missing a weapon motor, the pulley is in bad shape, and the battery is undoubtedly dead. Over the years she earned many battle scars, especially near the front.
Under all the electrical tape "armor" are three speed controllers, two small gear motors, and a micro RC receiver. I doubt many of these particular items are for sale any longer, 10 years is an eternity in hobby electronics. Hopefully they all still work, I don't look forward to finding replacements.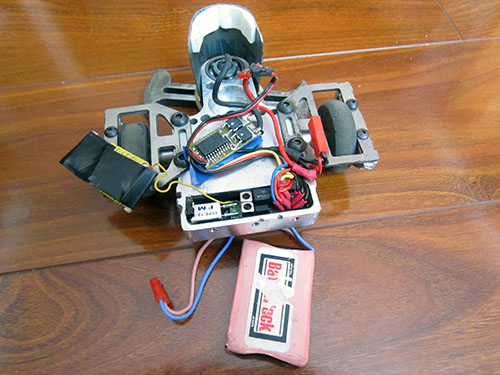 I'm looking forward to the event, and am curious to see what other people come up with.
Pete