Good day,
I am trying to design a very thin electronic device that will be less than 2mm in thickness preferably less than 1.8mm. The device need to be charged via usb and micro usb is the smallest connector type that I can find. The micro usb (type b) female connector in it's smallest instance that I can find is about 2.8mm?
My questions are: are they any components available that is purely just the 5-pin pinout of the female micro usb connector? The image below shows the pinout I am refering too
The female pinout seems very thin (and likely very fragile) however when looking at the male connector (below) it looks to cater for at least 1mm in thickness for the female pinout.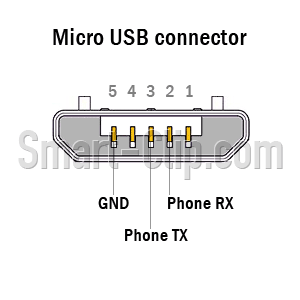 If there are no components available like this, has anyone seen or had any experience is creating one with a PCB? Would this be possible?